Courseware Summary
A major thrust of my professional work has been focused on using technology to enhance learning and instruction. I am the founder and director of the Virtual Courseware Project (ScienceCourseware.org) which is devoted to the creation of interactive web-based software that allows students to use an inquiry-based approach to learning. I have led the development efforts of the four virtual courseware suites listed below. Over 8 million students have used these applications. This work has been supported by grants from the U.S. National Science Foundation (NSF).
FlyLab JS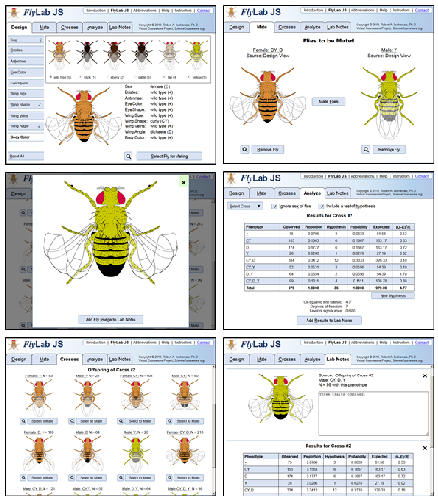 Recently, conversion to javascript has started for some of the older science education courseware developed using java and Flash. The first result of these efforts is the popular program FlyLab JS. Students can use this application to understand how genetic traits are inherited by designing and analyzing experiments involving fruit flies with visible mutations. Flies can be designed and mated and the offspring data can be examined and analyzed. It supports tests of hypotheses using chi-squared statistical analyses. Results and comments can be exported to an online lab notebook. This application will run on any device, including tablets and smart phones, and in any modern browser.
Virtual Courseware for Inquiry-based Science Education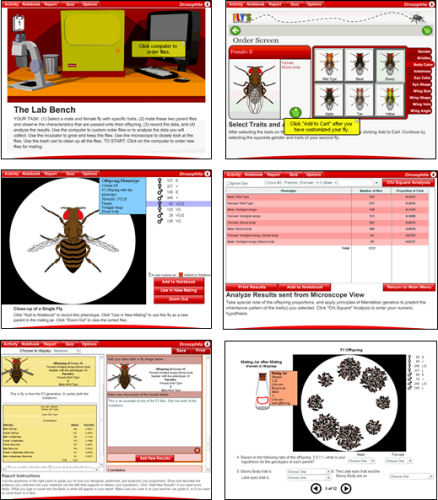 The VCISE Project, which was funded by a $1.3M grant from NSF, produced open-ended activities that are designed for high school and college classrooms. Students can investigate and analyze scientific questions by making measurements, designing experiments, recording data, and testing hypotheses. For example, the Drosophila activity allows students to simulate laboratory experiments where they cross fruit flies to determine the rules governing genetic inheritance. This activity was featured in the journal Science.
Virtual Courseware for Earth and Environmental Sciences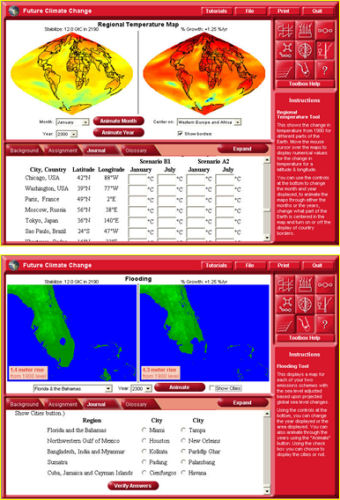 The EES Courseware Project is a suite of interactive simulations and tutorials on seismology and climate. In the Earthquake activity, students learn how to use seismograms to locate the epicenter of earthquake and measure the Richter magnitude. A spanish version of the earthquake activity, Terremoto, was also developed. Global Warming is a suite of two simulation activities and seven interactive tutorials where students explore the factors that determine the Earth's surface temperatures and hypothesize how various emissions scenarios will affect future climate and sea levels. This activity was featured in the journal Science.
Geology Labs Online
Geology Labs On-Line consists of web-based activities which enhance the learning and teaching of earth science. There are modules on seismology, determining the ages of rocks and minterals, and the radiocarbon dating of fossils and archeological artifacts. Students complete a sequence of tasks that require observation, measurement, and data analysis. Upon successful completion, they receive a personalized certificate. These activites have been used at a variety of educational levels, from middle schools through college.
Biology Labs Online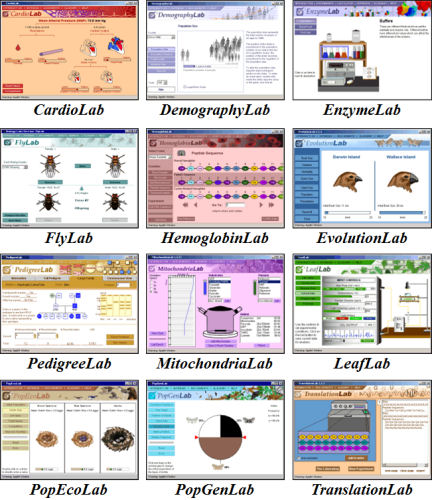 Biology Labs Online is a collection of 12 web-based simulations for biology education. These activites were originally created in collaboration with the California State University and marketed as a commercial product by Pearson Education. These activites can now be used for free. They deal with a variety of topics that are typically covered in an college-level introductory course sequence on general biology for majors. Each of the applets involves the design of experiments, collection of data, and analysis and interpretation of results.