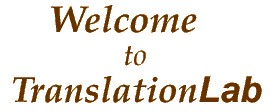 TranslationLab will allow you to study the importance of the nucleotide sequence of mRNA as the fundamental basis for the genetic code universally deciphered by living cells. You will produce sequences of ribonucleotides that will be translated into protein to simulate the landmark experiments involving cell-free extracts that were essential for interpreting and understanding the genetic code.
This lab is intended for use with specific questions or assignments. Your instructor may have provided separate assignments for you; if not, you should go to the Assignments provided here.
The purpose of this laboratory is to:
Study the relationship between the nucleotide sequence of a mRNA molecule and protein synthesis.
Simulate pioneering experiments that were used to delineate the genetic code.
Demonstrate how a mutation in the nucleotide sequence of a mRNA molecule results in a change in the amino acid sequence of a protein.
Before beginning TranslationLab you should be familiar with the following concepts:
The structure of a polypeptide.
The structure and functions of messenger RNA (mRNA), ribosomal RNA (rRNA), and transfer RNA (tRNA) .
The flow of genetic information in a cell; the major processes involved in transcription and translation.
Describe how point mutations in a gene can affect the amino acid sequence of a protein.