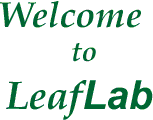 In this laboratory, you will perform simulations of experiments designed to study the reactions of photosynthesis as they occur in the leaves of different plants. Some of these plants perform C3 or C4 photosynthesis, some plants prefer shade over direct sunlight, while some plants in LeafLab have different numbers of chromosomes that will affect photosynthetic rates. By changing experimental parameters such as light intensity, light quality, temperature, gas flow, and carbon dioxide concentration, you will learn about the importance of each parameter by measuring the amount of carbon dioxide consumed by the plant cells in your experiment as they undergo the reactions of photosynthesis. Data collected from these experiments will be calculated to determine photosynthetic rates.
The purpose of this laboratory is to:
Demonstrate how photosynthetic rates in different plants can change in response to factors such as light intensity, light quality, CO2 concentration, and temperature.

Simulate measurements of CO2 assimilation rates in leaves.

Investigate dark respiration, photochemical efficiency, CO2 conductance, carboxylation efficiency, light compensation points, and photosynthetic saturation.
Compare photosynthesis in C3 and C4 plants.
Study the effects of polyploidy on photosynthetic rates.

Before You Begin: Prerequisites
Before beginning LeafLab you should be familiar with the following concepts:
The importance and functions of enzymes as biological catalysts, basic principles of metabolic pathways, and mechanisms involved in regulating the catalytic activity of an enzyme
The electromagnetic spectrum and the photoexcitation of chlorophyll by visible light.
The reactions of photosynthesis including cyclic and noncyclic electron flow in the light reactions, and the Calvin cycle. Be able to describe the primary substrates required, reactions involved, and products generated by each of these reactions.
Plotting, interpreting data, and fitting data points to curves in scatter plots; using y- and x-intercepts, slope of the line, and the asymptote to extrapolate data from a line plot.