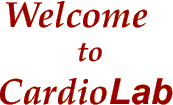 In this laboratory, you will perform simulations of experiments designed to study the relationships between the various parameters that influence blood pressure and heart rate in humans, and examine how the cardiovascular system responds and functions to maintain blood pressure homeostasis.
The purpose of this laboratory is to:
Demonstrate important relationships between heart rate, stroke volume, resistance, cardiac output, and mean arterial pressure.
Investigate how changes in various parameters of the cardiovascular system such as vessel radius, ventricular volume, blood viscosity, and heart rate affect blood pressure and how blood pressure homeostasis is restored in response to these changes.
Simulate the effects of chemicals, shock, hemorrhage, exercise, and cardiovascular disorders on blood pressure homeostasis in humans.
Before You Begin: Prerequisites
Before beginning CardioLab you should be familiar with the following concepts:
The organization and functions of the mammalian cardiovascular system and the structure and function of the human heart.
The composition of human blood.
Physiological events in the human heart, including the intrinsic conduction system, the cardiac cycle, and the pathway of blood flow to, through, and away from the heart.
Principles of hemodynamics, including relationships between blood flow, blood pressure, and peripheral resistance .
Autonomic nervous system regulation of heart rate, blood vessel diameter, and blood pressure homeostasis .